05 Nov, 06
Well, this all started back in August 2006.
I was in Dosthill Quarry with my camera, when my buddy Mark pointed out a crayfish – the first one I'd seen.

I did a bit of digging to ID it – there aren't many resources for freshwater crustaceans – but found that there are two species in the UK, one of which (the White Clawed Crayfish) is both endangered and protected.
This is the one that seemed to feature in my photos, but I couldn't find any record of these at Dosthill.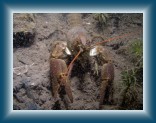 So I emailed Staffordshire Wildlife Trust – who confirmed that the photos are of the White Clawed Crayfish – but they hadn't had any sightings reported since the 1970s.
Now, it turns out that loads of people knew about the crays, but nobody had told the Wildlife Trust, so we're in touch with them now. Dosthill are being supportive about this, so it could get interesting.