24 Jun, 08
Well, it's almost a month since I got back, so it's probably about time I wrote something about this trip, diving in the Manado province of North Sulawesi.
I came back with about 2000 photos, many of them of stuff I've not seen before, so it's taking a while to do all the cataloguing, ranking etc. As usual, I'm finding the Scorpionfish the trickiest to figure out …
This was a two centre break, and it's hard to believe that the same area can offer two completely different types of diving.
Bunaken / Tasik Ria
For the first week, I was based at Tasik Ria resort, which is near Manado city (and relatively handy for the airport). I had a small panic when my dive bag went missing at the airport, but a very honest gentleman (whose porter had picked it by mistake) delivered it the following morning – getting it to me 10 minutes before the dive boat left.
Tasik Ria's lovely, and Danny – the manager – really makes sure you feel welcome. Mind, the thing that struck me about Manado is that all of the people are really friendly.
And then there's the Jetty bar. This is open until later, and I felt at home as soon as I walked in. Stanley – the barman – had a BB King track playing. No point in going anywhere else, then ….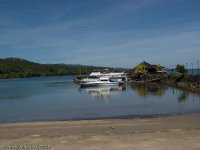 The Jetty bar's behind the dive boats here – which means there's a glass of ginger tea waiting to freshen you up when you get back in.
The diving itself is with Eco Divers, and the centre's on-site. There is a camera room (although I did all my changes in my room), but there aren't a lot of spares – it's difficult to import things to Indonesia.
If you've dived on a Red Sea dayboat, then you'll find this all very familiar – the boat has the same layout (saloon, top deck, wet dive deck). The reason you go all this way is to dive on the Bunaken Marine Reserve, which is about an hour or two away – so expect to be out all day, with lunch on the boat. There are two large camera tanks at the back of the boat.
The third dive differs on alternate days. One day you'll do three dives on Bunaken, the next you'll do two on Bunaken and one of the house reef. This isn't actually a hardship, as the house reef has lots of stuff.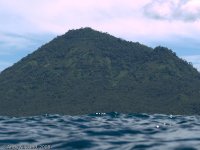 The Bunaken park is named after the island where you do most of the diving. Most of the area's volcanic. There's a key to (and a map of) the dive sites on the Eco Divers website.
Bunaken island is fairly low-lying, however, and the most significant landmark is the neighbouring island of Manado Tua.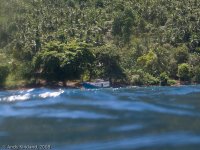 The character of the diving on Bunaken Island is of big drop-offs and gorgeous, colourful wall dives. Don't expect schools of hammerheads, though. "If you want big stuff …" we were briefed "…you should have gone to Palau".
There can be strongish currents. Knowing that I'd not get much use out of the wide-angle in week 2, I decided to try it out on Bunaken. However, there was such a lot of macro stuff that I just got frustrated, and didn't use it much again … another reason was the amount of "fluff" in the water, which meant backscatter.
In the end, this meant that I was limited on turtle shots, and missed out on the the diver-with-coral shots, but – on balance – I felt like I'd got the best of the deal. Maybe the new 12-60mm lens will provide a compromise in future (I got to play with one yesterday, and the focussing is really zippy)…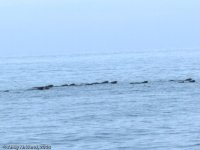 Other stuff that happened … We saw some pilot whales on the way out to site … and dolphins the next day (no photo of them I'm afraid) … and on our check-out dive a couple of Mantas did a fly-by (no useable shots, I'm afraid) – didn't see any more all week.
Monica was guiding us most of the week, and she was excellent. All diving is to 30m max. Nitrox is available, but it's shipped over from KBR (at the moment), so you have to order it in advance. The number of DIN-compatible cylinders is also limited, so it's worth checking in advance (or taking a converter) if you've got DIN fitting regs.
… Oh … and you get some wonderful sunsets …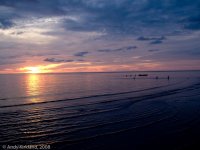 Eco Divers – who also run the KBR diving – run a "full service diving" service – your kit is set up for you. Generally, this is reliable, but don't get complacent – you should always check your cam band and air.
So, after 6 days diving, a busload of us transferred over to KBR for week 2.
Kungkungan Bay Resort
You need to know :
– Everyone just calls it "KBR"
– It has a 24/7 restaurant – all food is included
– The first item on the dessert menu is Banana fritters in chocolate sauce
– I never got to item 2.
This is completely different from Tasik, although, again, the people are really nice. The hotel is carved out of the jungle, and is just for diving. Really. There's no other reason to be there.
This is in the Lembeh Straight, which is known for "muck diving". This basically involves rooting around in volcanic sand to find the weird critters that have managed to evolve defence strategies. This neck of the woods (including the Phillippines, Thailand etc.) is also blessed with massive underwater biodiversity. As an example I was seeing over 8 species of nudibranch on one dive – I'd typically find only 2-3 species in a whole week's diving in Sharm.
I'll probably cover some of those topics in later posts, however.
All of the dive sites are within a 15 minute speedboat journey from the dive centre. Normally, there'll be 3 divers to one guide, and two groups on each boat. There were about three boats running when I was there. It's similar to UK RhIB diving, in that you enter with a backward-roll over the side.
Here's one of the boats pulling up at the jetty.
Again, there's a map of the Lembeh dive sites at the Eco Divers web site.
There is a Nitrox compressor here (it turns out around 32%) and you can get a package. Again, all your kit is looked after, and your camera is given a basket. There are soak tanks for your cameras (and nothing else!) between dives.
So – none of this "out all day" stuff. After breakfast, it's off to the first dive (briefing at 8:05). Most of the dives are for 1 hr, so you'll be back by 10:00 – there are hot drinks and cakes waiting for you.
The second dive is briefed at 11:05, which means you get back in time for … lunch. You can have a bit of a break here, as the third dive is briefed around 14:35. The sun will be going down behind the hills by now, so the (underwater) light starts to go, particularly on the west side of the straight.
Night Dives are an option every day, but you can set off a bit earlier (with dusk approaching) for a "Mandarin Dive". This heads off to the next bay along, and the objective is to wait at 6m to see the Mandarinfish mating. They weren't in the mood with me watching, but – in any case – it was fascinating to see the reef transforming from day into night – the crinoids and shrimp emerging.
Eco kept me with the same buddies – I was with Alan and Tony all week – and we were briefed that "you dive as a family" – taking it in turns to see the different beasties (most of which aren't going anywhere), rather than elbowing each other out of the way. I think it worked quite well for us …


Anyway – I had the left half of this bungalow.
… And this is the main restaurant / reception (the dive centre's on the other side).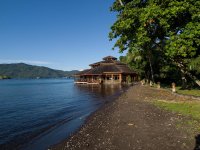 There's a balcony round the outside, so you can eat over the water, while the fish play.
I did use the camera room here – there's plenty of light to check your seals, and a (very useful) air gun. Kim was very helpful when my (cheap) strobe fitting failed, but again, they don't carry a stock of camera spares.
Electricity – standard European adapters worked. I took my own chargers.
There is wireless but … there's no broadband behind it (that's either a Manado thing, or a jungle thing). There's also a computer, but I took my own laptop. Shooting RAW (and converting to LightRoom), I was seriously running out of space after two weeks and 2000 shots.
Singapore
I took a couple of nights to stay in Singapore on the way back. This was partly because of the way flights worked out, but I also enjoy staying there. And Just as a safety thing, I've been told (from a usually reliable source) that there are indications that repetitive flying can increase susceptibility to DCI. So … lots of reasons.
However, Singapore Airlines runs a Stopover scheme which turned this into a mini break. I took one of the trips – out to the Jurong Bird Park. We only had about 2 hours there, though, and after the opening show, there wasn't really enough time to get around.
I'm always impressed about the way this city has its tourism organised. It may be a bit "plastic", but it gets a lot of people to where they're supposed to be, when they're supposed to be there. There's a lot of building work going on at the moment for the F1 Grand Prix in September. This is clearly seen as a big leap in status towards establishing Singapore as an international destination, rather than just a stopover hub, and the people are proud of this.
If you're after electronic stuff, then try Sim Lim Square. Several stories of toys, so you can compare deals easily. There's a free shuttle bus.
In the evenings, I wandered round Clarke's quay (lots pf places to eat) and found the Crazy Elephant bar. Live Blues, so – again – no need to move.
I booked through Regal, and flew with Singapore Airlines (Heathrow -> Singapore) and SilkAir (Singapore -> Manado).
… and I'm still working on the photos … just needed to take a break from it …