16 Aug, 09
Well, it shouldn't come as any surprise that I headed out to Sharm for a couple of weeks.
More "no surpises" in terms of dive centre (Red Sea College) or accommodation (Hilton Fayrouz).
There was a problem with my Viking flight being delayed, which meant I didn't get to bed until 5:30am. I missed the first day of my Cavern Diver course (the TDI flavour, with Christian at PURE), but managed to catch up.
Once that was sorted, I was able to get on with the photos …
I'd taken my brand new 14-54mm lens, and ended up using that exclusively all week (I'd also taken the 11-22mm, which uses the same port, but never used it). I actually think that a "general purpose" lens like this is ideal for dayboat diving at Sharm. I don't like opening my housing on the boat, and you never really know what you're going to get on any given dive. As it turns out, I was very happy with it, and I'll put together a separate review later.
I like to make a note in these pieces of any unusual stuff going on – this year, there were four things worth mentioning.
Candelamoa parrotfish "swarming"
You quite often see the odd Candelamoa (aka "long-nosed") parrotfish Hipposcarus harid on the reef, but on 14th July (which was around a neap tide, following full moon) there were hundreds of them shoaling (and heading north) from Ras Mohammed. On the three dives that day, we saw shoals on all of them.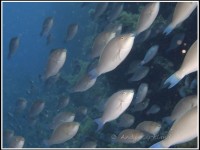 Far Garden cleaner wrasse
One of the third dives was on Far Garden. I'd missed everything big that day – the Whitetip on Gordon Reef, the hammerheads hadn't turned up (in fact, I didn't see any on the whole trip. though they were there) and I missed the Manta on this dive. But just as we got round the headland, I felt a tweak on my leg, and remembered the cleaners. They had a go at my fins as well ….

The Dolphins
Once again, we had some company from a pod of Risso's dolphins. Not as spectacular as last year, but these encounters are always emotional …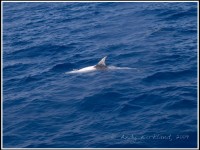 My MANTA
I've never really seen a Manta. There were a couple off in the distance on my first dive in Bunaken, but they were way off and not hanging about.
The first dive on my last day sorted that, though. Just after we'd jumped in on Ras Ghazlani, we dropped down (to 18m) near a pinnacle. There were a few fish just hanging off the pinnacle. And I realised one of them was an unusual shape …
Yup. A Manta (actually, it may have been a Mobula, but it looked a bit big). So I eased up to 13m and got a few shots off while he swooped around a couple of times, then headed off into the blue.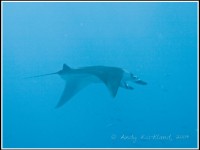 There'll be more photos when I finally get my act together with my gallery software …